If you're new to the concept of buying lingerie, the options available to you can seem massive, even downright overwhelming. Entering a world of chamises, teddies, garters, balconettes, and other terms beyond the conventional "bra" and "panties" can leave a person mystified and wondering what would suit them, their body, and their budget the best.
There are many things to consider when you've decided to invest in sexy lingerie. You want to feel your most confident in your selection. You want it to fit well and be comfortable. In this shopper's guide to purchasing new lingerie, we will help you to navigate all of the possibilities that lay before you. With this information, it is our hope that you will find the perfect lingerie to make you feel as bold, sexy and confident as you deserve.
Before You Buy Lingerie
Get Measured
The first thing that you should do, before you purchase lingerie from an online or brick-and-mortar retailer, is to get fitted for the proper sizes. Going to a local lingerie boutique is the most reliable way to get sized for the lingerie of your choice – and you won't be pressured into buying anything right away!
Lingerie boutiques have experts on-hand who will measure the dimensions of your body. While you might not be thrilled at the idea of having someone take a measuring tape to your unique curves, rest assured that the process is quick and painless; you won't even have to take your clothes off. Professionals understand the sensitive nature of taking these intimate measurements and will treat you with dignity and respect as they work with you to determine your lingerie sizes.
Also, don't be bothered by what the sizes end up being. Sizes are just numbers used to determine what will feel and look the most comfortable on your body.
Consider What You Want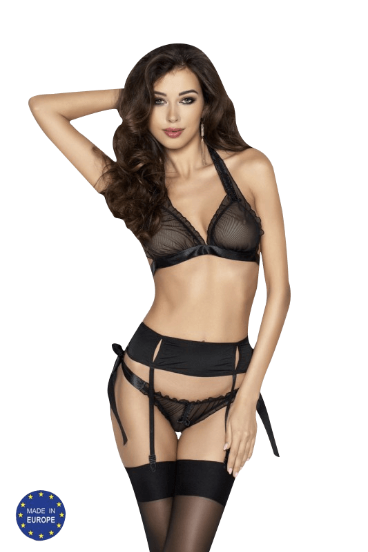 If you are brand-new to the world of fancy lingerie, it might be best to avoid skipping straight to corsets and garters – at least for now. You're already familiar with bras and panties, as you probably have a drawer full of them at home – so stick to that wheelhouse. Just aim a bit higher and a bit fancier. Are you a lover of tee shirt bras because of their comfort? Consider investing in a plunging bra made out of a fabric that you know to be comfortable on your body. Love your comfy boy shorts? Splurge on a few pairs that are enhanced with lace or ribbon!
At first, your new lingerie wardrobe shouldn't be too far a cry from what you already know and own. After all, you don't want to invest in ultra-fancy and complicated lingerie sets only to find that it isn't as comfortable on you as you'd have thought.
Remember Who You're Buying For
While you might be thrilled at the thought of seeing your lover's face when they set their eyes on you in a fetching new lingerie set, remember that you are buying lingerie for you, above all. You're the one wearing it, so your lingerie selection should be something that makes you feel amazing. And frankly, your partner should feel privileged enough to see you at your most intimate – they're not going to be too hung up on things like clasps, garters, ribbons, and corsets.
When Buying Lingerie
Now, it's time for the fun part – shopping! Once you have determined what you're in the market for, you'll have an easy time finding the right garments for you. There is a world of fabric types, colors and designs to play around with, so don't be afraid of going bold!
Stick to Your Sizes
You've been measured and you know what your lingerie sizes are, so don't veer away from those figures. Something that is too big may gape or feel awkward. Something that is too small may creep up your backside or squeeze your chest uncomfortably tightly.
Buy in Sets
Buying individual pieces can be nice for fleshing out an existing lingerie wardrobe, but it's best to buy in sets at first. This can save you money and it ensures that the lingerie you own has a matching bra/panty or another accessory (depending on what you choose).
Get Adventurous
If you're steering away from the more complex right now, understand that bras and panties don't have to be Plain Jane. Explore bold color options. Consider items with beaded embellishments, ribbons and decorative straps. There are limitless possibilities simply waiting for you!